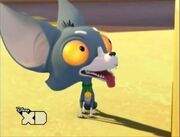 Matisse is the dog of Wendy.
Description
Edit
He is a weird looking Chihuahua. He has big ears and a big head.He has an small body yelloworange eyes and has white brows,legs and snout. He wears a green collar.
On the Episode Dog Daze Danny has brought him to an Dog
trainer and the Dog trainer was the alien Swampdweller and has made Robotcopys of Matisse to invade Singeltown.
When three Robotmatisses combine they turn into a big Robotmatisse.