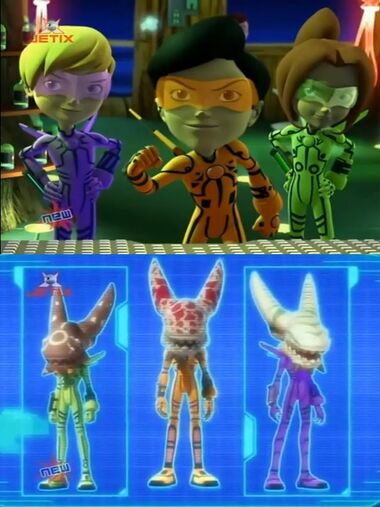 The Monster Beater Club poses as the rival alien hunter club of Monster Buster Club. The enemy has a large tree house as the headquarters and advanced gadgets than the MBC. The members are the Dark Galaxy Morphers and their true goal is to transfer the Monster Buster Club to the other side of the galaxy. They tricked John to join them until John realize that he's in the enemy's side. Charly (orange), Cori (purple), and Clarissa (green). In the end, they are all captured by John, Chris' little brother by turning them into rabbits.
Powers and Abilities
Edit
Able to disguise as humans. Skilled at hunting alien enemies. But also, creating a division plan for anyone that stand in their way to foil them all.
Ad blocker interference detected!
Wikia is a free-to-use site that makes money from advertising. We have a modified experience for viewers using ad blockers

Wikia is not accessible if you've made further modifications. Remove the custom ad blocker rule(s) and the page will load as expected.